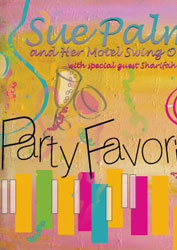 San Diego's Queen of Boogie Woogie, Sue Palmer, has amazed audiences all over the world with her unique style and phenomenal left hand. She delights in creating an atmosphere reminiscent of the small clubs and cafes of 1932 Paris, Harlem, West Texas and Hawaii. ...learn more about Sue!

AVAILABLE NOW! Sue Palmer & Her Motel Swing Orchestra present "Party Favorites" - Listen to song samples or buy this and other albums from Sue Palmer online today!
You can also pick up a copy at any of Sue's gigs or at the Scarlet Letter Bookstore (3182 Adams Ave., San Diego)


sign up for our monthly mailer!
Fri, Sep 26 (7-10pm)
Proud Mary's Southern Bar & Grill with the Sue Palmer Quintet
Sat, Sep 27 (12:15pm - 1:15pm)
Mission Bay Centennial with the Sue Palmer Quintet featuring April West, Deejha "Blowtop" Marie, Sharon Shufelt, and Pete Harrison
Sat, Oct 11 (7pm - 11pm)
Croce's Park West, with the Sue Palmer Quintet