Where to find the Award winning Boogie Woogie piano player...
This just in...
We've been nominated for Best Jazz Band by the San Diego Music Awards, scheduled for Monday, March 19, 2018 at the House of Blues (Downtown San Diego), 6pm

Saturday, February 24 [ 8:00pm ]
Sue joins an all star cast at the Poway Performing Arts Center, for a rocking' Mardi Gras show, with Gregory Page, Euphoria Brass Band, Bayou Brothers, Casey Hensley, Nathan James, Southland Soul, and more!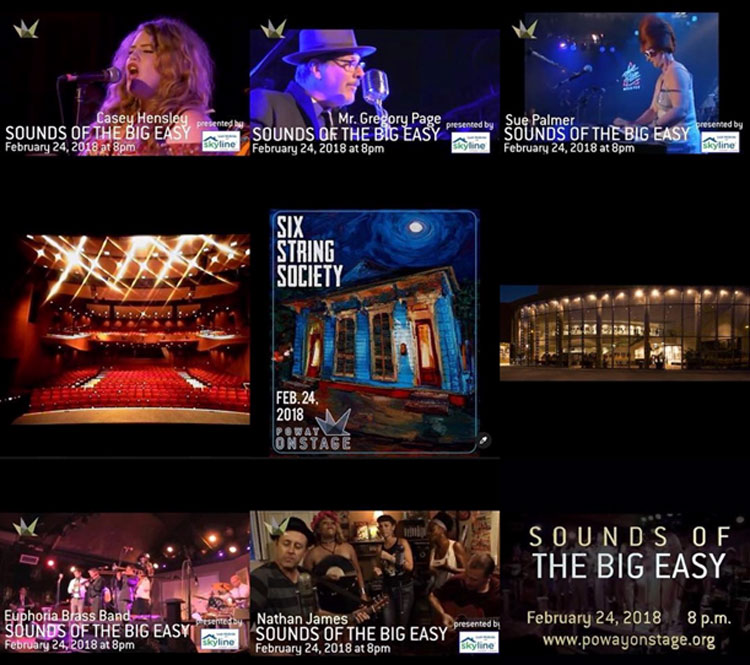 Monday, February 26 [ 7:00pm - 11:00pm ]
Saturday, March 3 [ 7:00pm - 10:00pm ]
Monday, March 5 [ NOON - 1:00pm ]
The Sue Palmer Trio, featuring Pete Harrison on bass and Deejha Marie on vocals, plays the Lyceum Theatre (Horton Plaza), free concert
Tuesday, March 6 [ 7:30pm - 10:00pm ]
Saturday, March 10 [ 5:00pm - 7:00pm ]
The Sue Palmer Quintet appears at Humphreys Backstage (Shelter Island) happy hour, featuring legendary blues sax man Jonny Viau

Monday, March 12 [ NOON - 1:00pm ]
Wednesday, March 21 [ 7:00pm ]
Sue appears as a guest artist in a Benefit for the Mission Bay High School Preservationists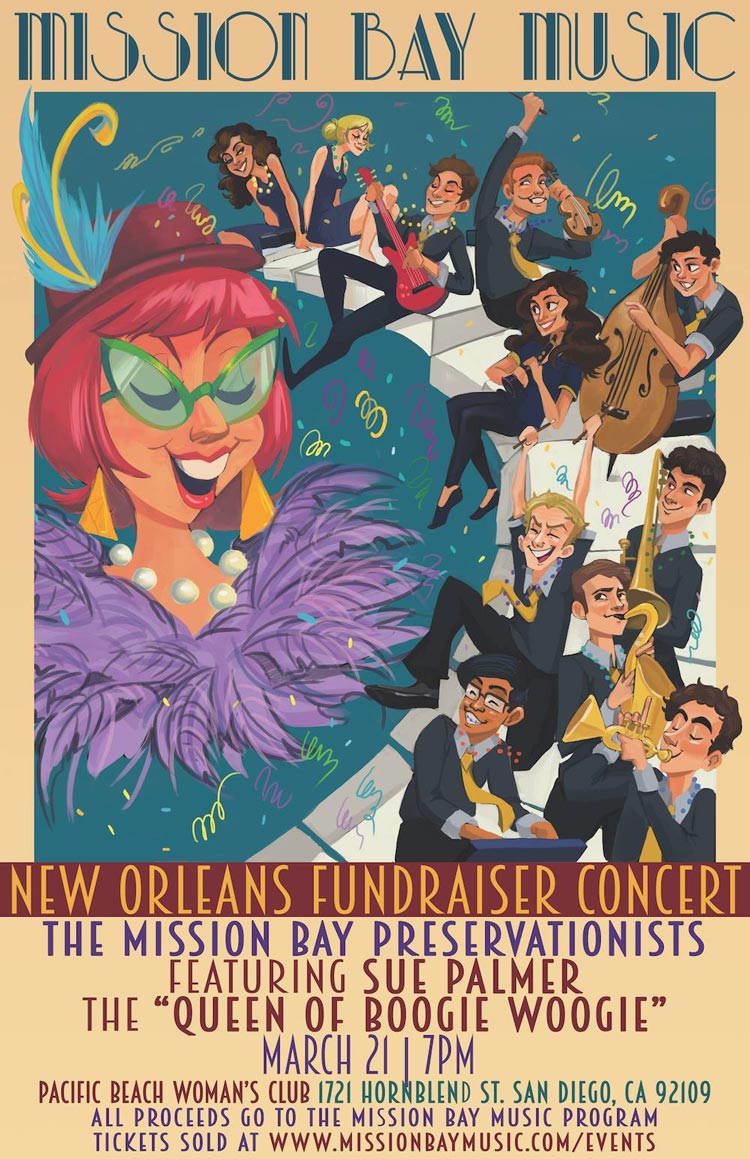 Monday, March 26 [ 7:00pm - 11:00pm ]
CHECK OUT SUE IN THE DECEMBER 2016 ISSUE OF BOOGIE MAGAZINE!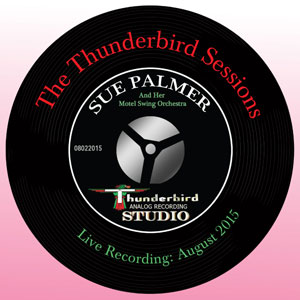 THE THUNDERBIRD SESSIONS NOW AVAILABLE! Rave reviews are pouring in, so get yours now at all of Sue's engagements,
Vintage, Space 441
, at the
Carlsbad Art and Antique Mall
(
2752 State St, Carlsbad
- 760-730-9494), and CD Baby.
"Toe taps give way to foot stomps. Finger snaps burst into claps. Shoulders spontaneously shimmy. Hips begin to wiggle in provocative ways. You can't help it. The jump, swing, soul, grit, sex, heartbreak, jubilation....everything the music promised and more. When the sax moans out 'Harlem Nocturne,' you expect to open the door to find it raining in black and white." ...Claudia Russell, The Jazz Ride Home, www.jazz88.org

May 13
Gator by the Bay
Sue Palmer & Her Motel Swing Orchestra


October, 2018
Pismo Beach Jazz Jubilee


Thanksgiving Weekend
San Diego Jazz Festival at the Town & Country Hotel