Where to find the Award winning Boogie Woogie piano player...

Tuesday, December 19 [ 7:30pm - 10:00pm ]
SUE'S HOLIDAY SHOW - The Sue Palmer Quintet plays Tio Leo's (5302 Napa, San Diego 92111) - Special holiday show with world famous guitar player Laura Chavez, best known for her stint with the late blues diva Candye Kane, and current stint with Nikki Hill, and powerhouse soul singer Sharifah, $10 cover

Friday, December 22 [ 5:00pm - 7:00pm ]
Saturday, December 30 [ 7:00pm - 9:00pm ]
The Sue Palmer Quintet, with Steve Wilcox on guitar, will be appearing at Panama 66 (Balboa Park, Sculpture Garden)
CHECK OUT SUE IN THE DECEMBER 2016 ISSUE OF BOOGIE MAGAZINE!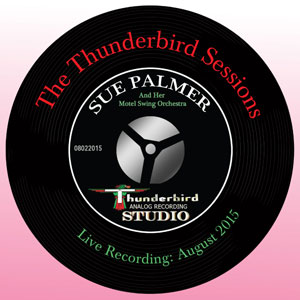 THE THUNDERBIRD SESSIONS NOW AVAILABLE! Rave reviews are pouring in, so get yours now at all of Sue's engagements,
Vintage, Space 441
, at the
Carlsbad Art and Antique Mall
(
2752 State St, Carlsbad
- 760-730-9494), and CD Baby.
"Toe taps give way to foot stomps. Finger snaps burst into claps. Shoulders spontaneously shimmy. Hips begin to wiggle in provocative ways. You can't help it. The jump, swing, soul, grit, sex, heartbreak, jubilation....everything the music promised and more. When the sax moans out 'Harlem Nocturne,' you expect to open the door to find it raining in black and white." ...Claudia Russell, The Jazz Ride Home, www.jazz88.org


Thanksgiving Weekend
San Diego Jazz Festival at the Town & Country Hotel